Venezia – this wonderful city which is suffering under the masses of tourists and rising water levels still is such a beautiful, magical place full of beauty and history, that invites you to wander around the old streets, canals and palazzi. Apart from the breathtaking sights, Venice also has a very special local cuisine, that is best tested in the many bacari, historic, old bars that serve good, cheap, delicious food and wine.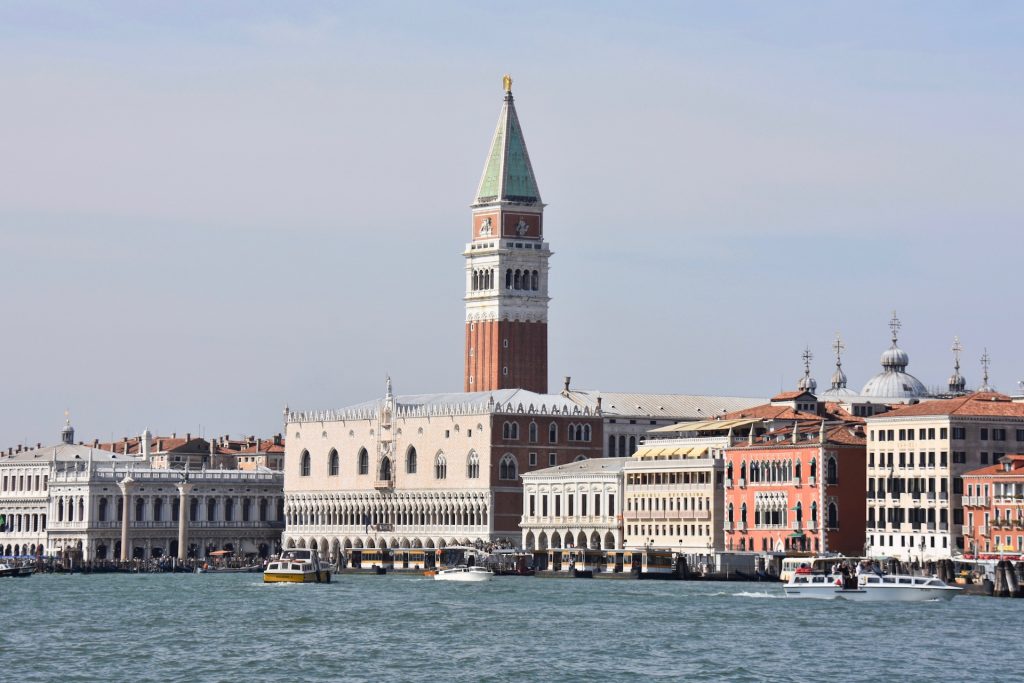 Stay
The hotels in Venice can be pretty expensive, especially during the Biennale or other events, so it can be difficult to find a nice and affordable accommodation. Residence Corte Grimani is a simple clean and cosy hotel and its location is as central as it gets. Another good alternative is a holiday apartment, for our last stay in Venice we booked via Views of Venice and our little home with rooftop terrace was just fantastic.
Getting to Venice
You can get to Venice by car, train and plane.
The train will arrive at the central station Santa Lucia from where many vaporettos start from stop Ferrovia.
When you arrive by car you have several parking garages to choose from, either at Piazzale Roma or at Tronchetto. There are Autorimessa Comunale ASM Venezia, Garage San Marco or Tronchetto Parking. The last one is a modern and safe garage with a direct Vaporetto stop or private water taxi options.
Getting around
To be able to fully admire all the historic buildings and sights it's best to explore Venice by foot. However, the vaporetto, or water bus is great to cruise around the canals. You can't miss the bus stops along Canal Grande and around the city, where you can also buy the tickets, but the boats are always crowded and the tickets are pretty expensive for public transportation. There is the option for a vaporetto pass for several days which is reduces in price. If you walk around Canal Grande you'll also come across the small traghetto stations. Here you can cross the water for about 1€, which only takes a few minutes but is a fun way to experience a gondola ride.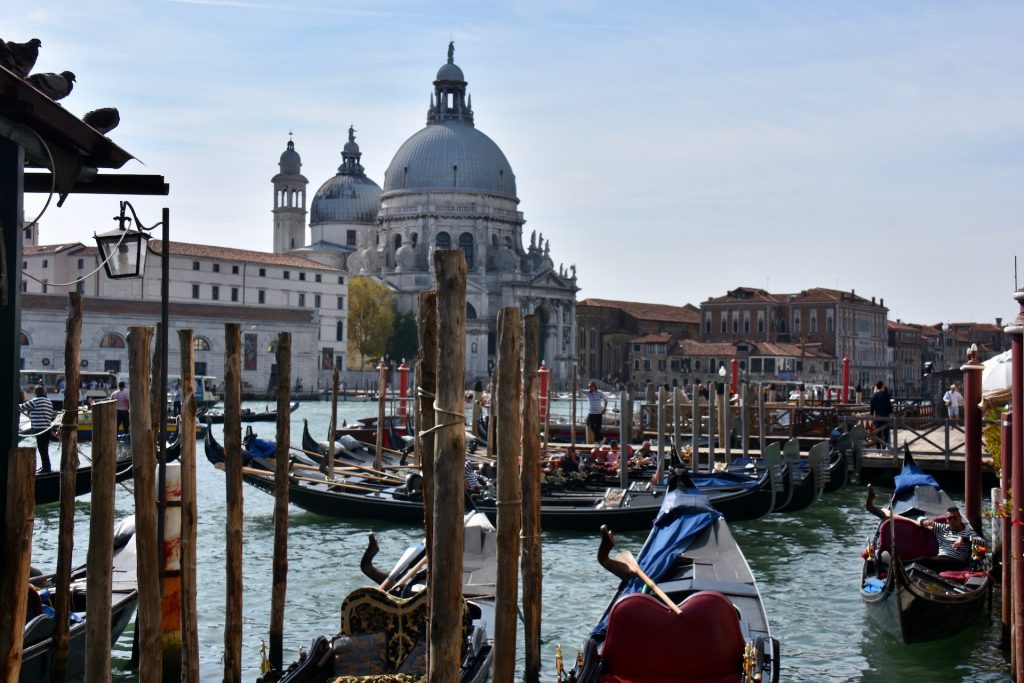 San Marco
Do: The Piazza San Marco is the touristic heart of the city, here you find the basilica San Marco which is beautiful and free to visit. Yet, there often is a long line and you have to wait to get in. Right next to it you find the equally impressive Doge's Palace and the Campanile. Go up there for great views of the city and surrounding islands. Behind the basilica there is another famous attraction, the Ponte dei Sospiri, or Bridge of Sighs. The piazza San Marco itself and the surrounding streets are also beautiful, with the old arcades and unique shops like the truly luxury but morbid jeweler Attilio Codognato or Venetian luxury shoe boutique Rene Caovilla.
Exhibitions at Palazzo Grassi are often spectacular, but also simply visiting this old building is nice. The same applies to Palazzo Fortuny and Museo Correr. Another church to visit is San Salvador with beautiful works of art. An interesting place is Palazzo Contarini del Bovolo, famous for its special spiral staircase.
Eat: It can be difficult to find a restaurant and not be completely caught in a tourist trap in the district of San Marco. But for example on Campo Santa Marina you find the nice cafe Italo Didovich and fantastic restaurant L'Osteria di Santa Marina, which is great for a delicious dinner with local ingredients and modern twists on traditional Venetian dishes. Here you get a delicious, interesting tasting menu for 45€, local wines and a cosy, traditional atmosphere. Aciugheta is right behind the basilica and a good option for a simple lunch or a coffee. There is also bacaro Magna Bevi Tasi right across the small piazza. You can also try Osteria da Carla, Da Arturo and Trattoria da Fiore. For lunch and small eats go to Enoteca Al Volto, Al Portego or I Rusteghi.
Cannaregio
Do: Strada Nova is the main pedestrian street here, with lots of shops, like the lovely supermarket Despar located in the old Teatro Italia. There is also the exhibition space Palazzo Mora. The history of the first Jewish Ghetto is very interesting and today still a place where you find jewish shops like the great kosher bakery Panificio Volpe Giovanni. A very nice square is Campo Santa Maria Nova, where you can simply sit in the sun and enjoy your surrounding.
Eat: Close to the former Jewish Ghetto there is street Fondamenta Misericordia where you find bar Vino Vero and sweet and stylish cafe and bookshop Sullaluna. Go to Osteria Al Cantinon for a nice dinner. Closer to Strada Nova you find AlTimon, good for cheap, delicious bites. Other bacari good for a bite and a drink close to Strada Nova are Enoteca do Colonne, Cantina Vecia Carbonera, La Cantina, Ai Promessi Sposi, Cà D'Oro alla Vedova and Osteria Al Ponte. There is also the tiny cicchetteria Al Pesce Rosso closer to San Marco.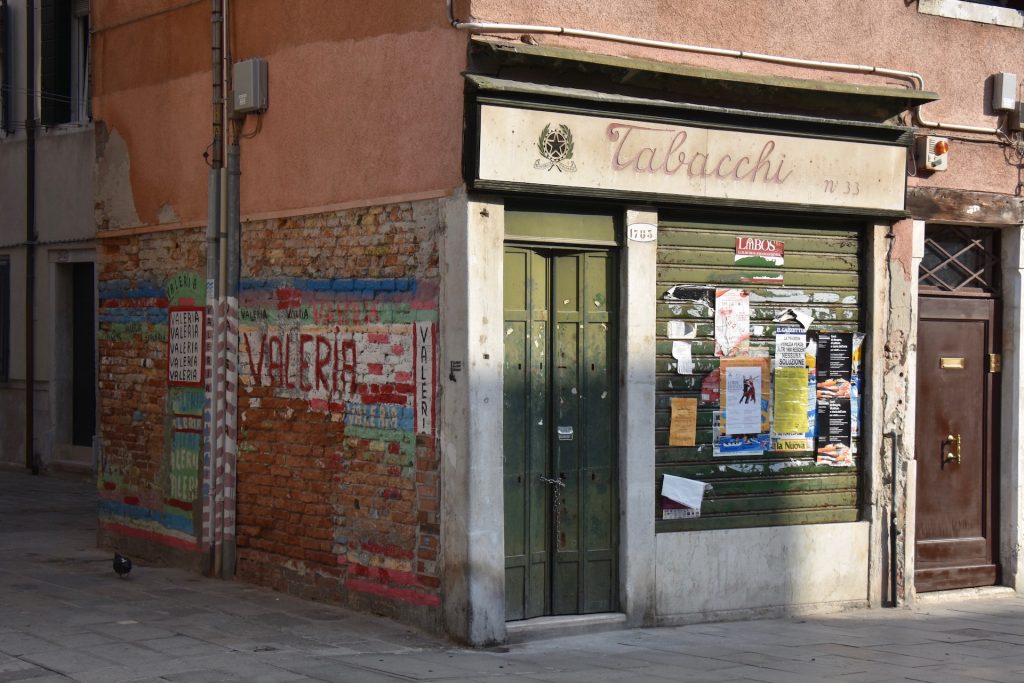 Castello
Do: Venice is always gorgeous but it is especially mesmerizing during the Biennale. The art exhibition that takes place every two years in the Arsenale complex, the Giardini park and all around the city is a joyful, abundant celebration of art. If you find yourself on Campo San Zaccaria visit the church, especially its flooded crypt, which you can see during opening hours and after request. There is also the nice beauty shop Segreti di Bellezza right next to the church. From vaporetto station San Zaccaria you can also take the boat to Murano or other small islands around the city center.
Eat: The pasticceria Rosa Salva is a lovely, cozy breakfast or cafe stop on Campo San Giovanni e Paolo. On Via Giuseppe Garibaldi there is Bar Mio with delicious sandwiches. Right at the canal next to it you find a picturesque market ship with fresh products. Close to the Biennale area you find cafe Serra dei Giardini located in an old beautiful glasshouse. There is also a very nice, small place at Ponte San Severo, where you can have a cafe or a drink.
Find all the important information and tips about the rest of the Venice neighborhoods here and about the other islands of the lagoon here. There are more travel guides for destinations in Italy, the most beautiful country! Read about the islands Panarea, Salina, Stromboli and Vulcano, Sicily here, here and here, Puglia here and here, or the amazing Amalfi Coast and Capri.