Hanoi is fun! It's a huge city with over 8 million citizens, however the centre feels rather small. You can easily get around with Grab and it's also nice to explore the old, narrow streets by foot. The Old and French Quarters are the main places of interest, however the area around the Ho Tay lake (West lake) is also beautiful. A nice hotel is Soleil Boutique Hotel, which has a central location while the neighborhood still fells quite local.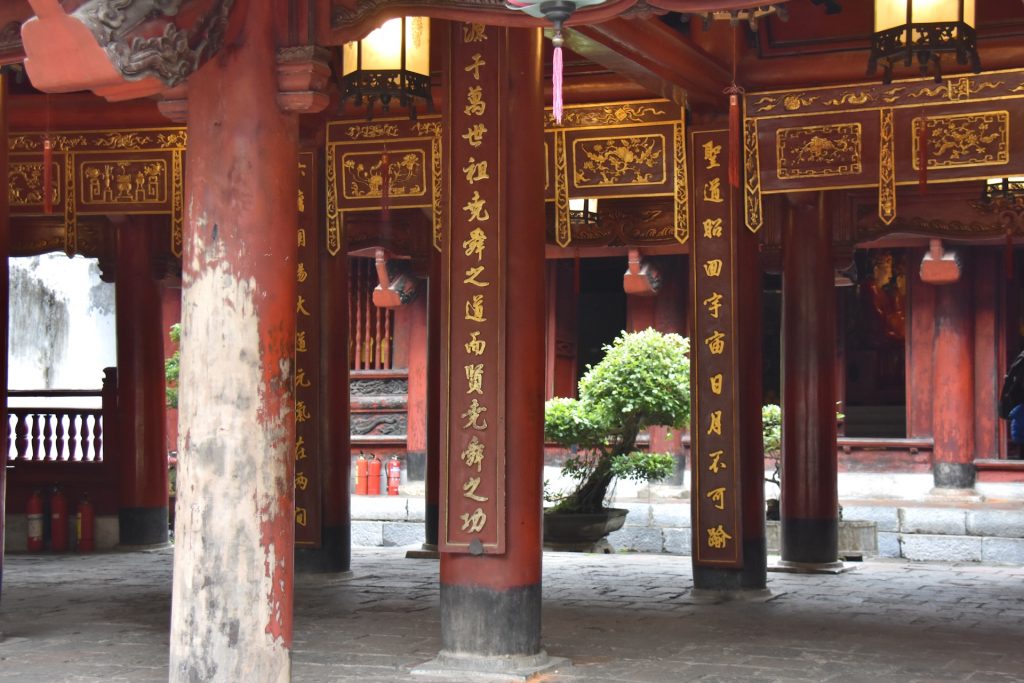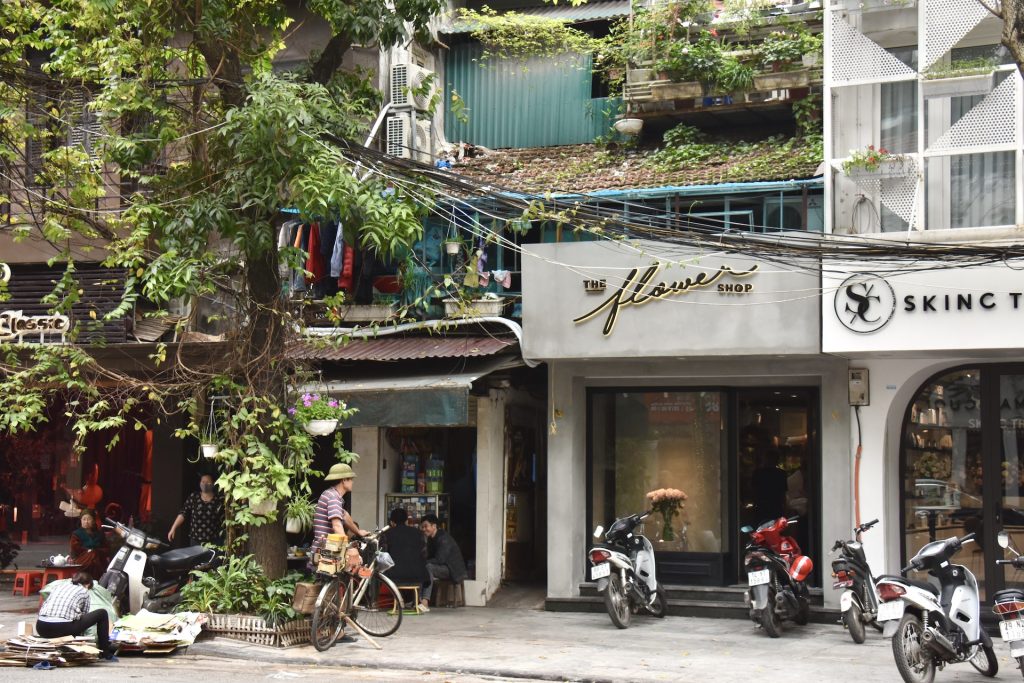 Do: The Old Quarter in Hanoi is the central neighborhood for tourists and locals, here you find street markets, old buildings, restaurants and street kitchens. The Heritage House, a historic building at 87 Ma May is especially worth a visit. The traditional tube-like architecture with many small yards, big windows and decorated furniture is just beautiful.
There are several daily and lively markets around Hanoi, like the Quảng Bá Flower Market, the Night Market in the old quarter and the Đồng-Xuân-Market.
The Vietnamese Women's Museum hosts a beautiful collection of Vietnamese fashion and art, like modern interpretations of the national garment Áo dài and the traditional dress of ethnical minorities. You also learn a lot about important women, traditions of female life like marriage and beauty rituals.
Regardless if you have already seen a lot of temples or not, the Temple of Literature is a highlight in Hanoi. The temple dedicated to Confucius is exquisite in its design and architecture.
Another unique place of interest especially for the Vietnamese is the Ho Chi Minh Mausoleum. In the massive building you can visit the embalmed body of the country's revolutionary leader and president Ho.
Two main landmarks of the city are also the opera house, built by the French in a neoclassical style and the Hoan Kiem Lake with its pretty pagoda in the middle of the lake inviting many people to take a leisurely walk around it.
Another curious place is Train Street, a narrow street with shops, cafes and actual train tracks where the train comes through everyday. Because of too many people taking pictures the street itself is closed for tourists now, making it only possible to take pictures from the intersection, but if you go to the railway cafe you can still enter.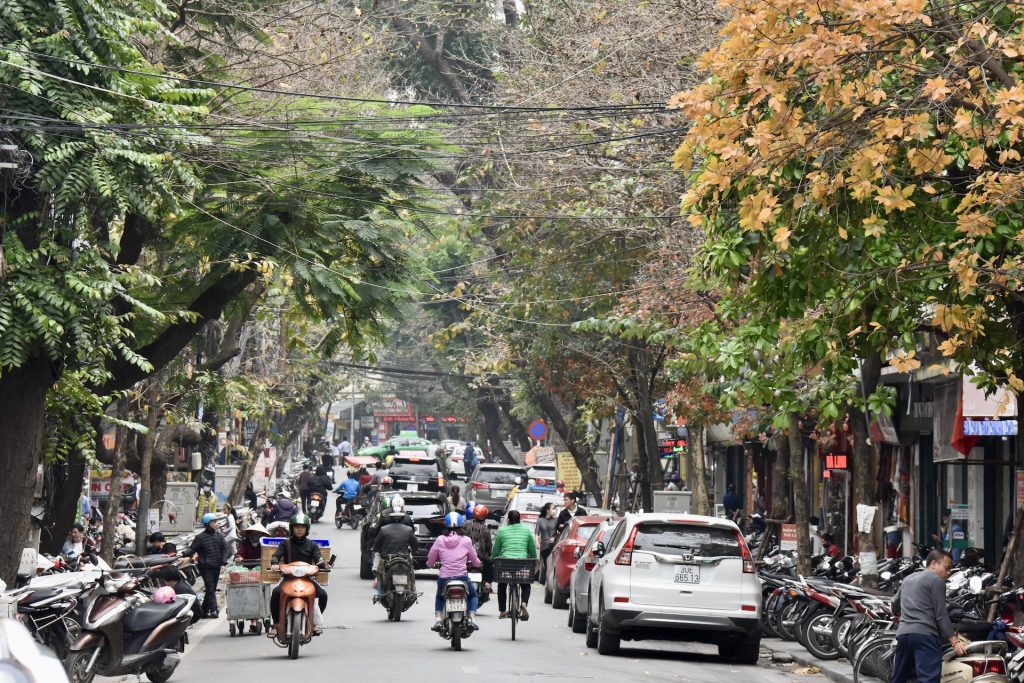 Eat
Restaurants: Dinner at Madame Hien is a perfect fusion of Vietnamese food with a French touch. Especially the starter plate and desserts are great. Tam Vi is a lovely restaurant, beautifully decorated in traditional Vietnamese design and with food that seems a little more authentic than in many other restaurants. For good food in a stylish setting go to Home Hanoi. There are many restaurants that serve delicious Bun Cha in Hanoi, the most famous being Bún chả Hương Liên, where Obama ate with Anthony Bourdin, but Bun Cha Ta is also very delicious.

Cafes and Bars: There are so many beautiful cafes in Hanoi and I think it's actually great that many of them are hard to find, as they are hidden in backyards or upper floors. Because this way you often find unexpected, lovely relaxed places in always busy Hanoi.
One of them is Manzi, not only a cafe but also an inspiring art space located in a lovely building with big windows, this cafe invites you to stay and enjoy. Another great cultural space and cafe is The Social Club, which is also especially popular with expats. Xofa Cafe is beautifully designed, has a nice patio and serves the best coconut coffee in town, in my opinion.
Also a beautiful cafe with many corners and small terraces is Lutu Lata. Here you can also try traditional Vietnamese desserts, like the sweet soups Chè with fruits and jelly. However, the best version might be served at simple Chè Dung 93. Also stylish and with many cozy hidden corners and patios is Charme Cafe. The balcony of Little Hoi An in the old quarter is a lovely place to sit and watch the life on the street below.
A good place to try the infamous egg coffee is Cafe Pho Co. It's located diretecly at the Hoan Kiem Lake, however you have to find your way to the silk shop in the front, through a long corridor and up the many stairs in order to get to the rooftop terrace with nice views of the lake. While the most famous cafe to try egg coffee is Cafe Giảng, you could also try the very good one at traditional Cafe Lam or Café Năng on 92B Nguyễn Hữu Huân.
When you begin to crave good western cafe and patisserie, have a sweet treat at french bakeries O'Donceurs or Saint Honoré, located close to the French opera house, or try chic Maison Marou or Madame Huong opposite the Women Museum.
If you are looking for a great bar with really good drinks go to Nê. At this bustling, urban and stylish bar you get served delicious, creative cocktails. Another alternative with live music is Bar +84.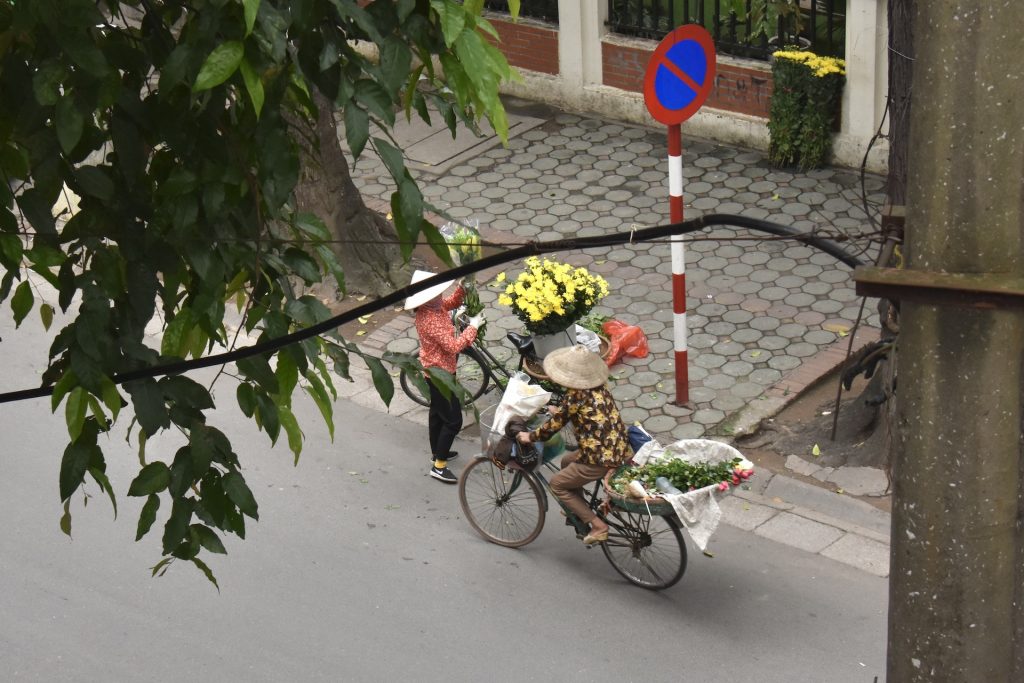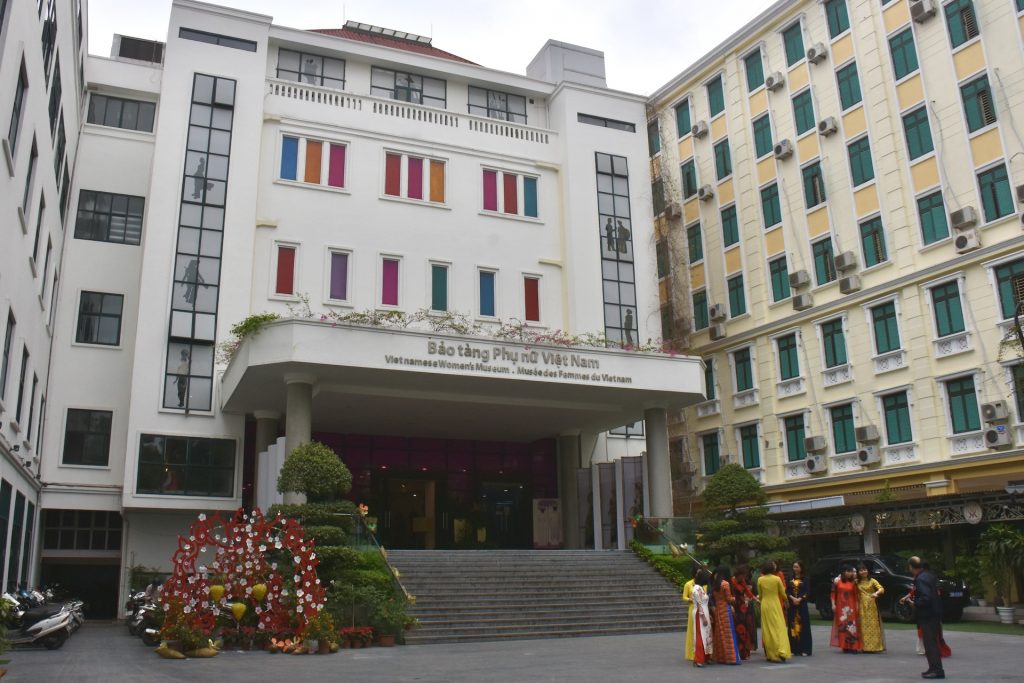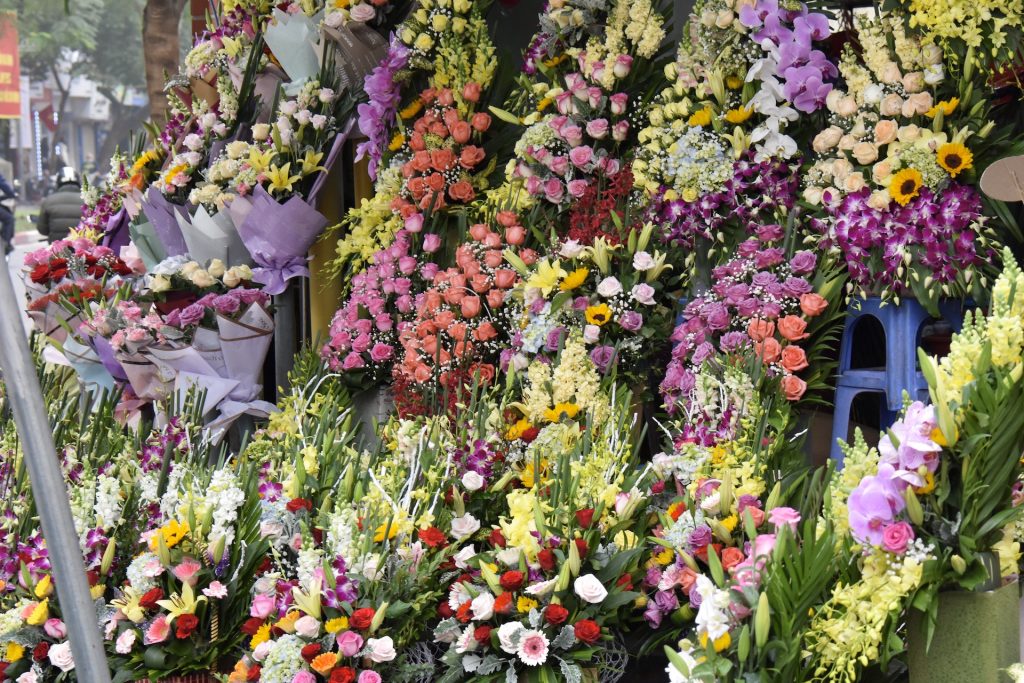 Shop: Hanoi is a fantastic shopping destination! Wether you are looking for traditional souvenirs or stylish fashion pieces, there are so many boutiques, often tiny or on the second floor but always creative and unique.
I especially like the fashion pieces at AnStore and Kilomet109. Vui Studio is a stylish cafe and concept shop and Gian Don at the West lake is a lovely accessories and fashion shop. Urban Gathering House sells only original fashion and shoes by the latest street style brands.
The streets in the old quarter around the St.-Joseph-Cathedral host many interesting boutiques, like Huulala and Collective Memory. If you are looking for a very unique, colorful and fun Accessoire go to Ipa Nima and take a look at the bright handbags here. For lovely traditional ceramics go to Hien Van Ceramics, sometimes you just have to be lucky with their changing opening times. The cute vintage store Chăn Con Công is located in the same historic building and so is pretty Loading T cafe. A small local fashion design shop where you have to take off your shoes before entering is Zofal. The linen dresses and ethnic jewelry are especially beautiful. For pretty chocolate go to Pheva Chocolatier on Phan Boi Chau. There is also more on Ấu Triệu street.
In the small streets of the old quarter you also find several tiny shops that carve traditional stamps. It's a nice and unique souvenir and they also carve photos or personal motives. One of them is The Real Stamp Shop on Dinh Liet street. There are also some shops where you can buy Vietnamese spices and dried fruits like Viet Aroma and Master Tan.
In the French Quarter around modern Trang Tien Plaza, the shopping mall with all important luxury brands like Dior and Valentino, you also find interesting fashion boutiques. Especially on Trang Tien street there are a few boutiques with stylish fashion. I especially love Flanerie hidden in the second floor of 21 Tràng Tiền!
Even more recommendations
For delicious Banh Mi try Bami Bread, Bahn My P or Banh Mi 25.
For more traditional Vietnamese food also try restaurants Chả Cá Thăng Long, Chim Sao, Highway4 and A New Day.
Restaurants with a more French or fine dining setting are Indochine, Green Tangerine, La Verticale, Essence, Wild Rice, Porte D'Annam and Ưu Đàm Chay.
Nice cafes are Eden Coffee with great views of St.-Jospeh Cathedral, shabby-chic Cafe Nola and Standing Bar for a cold beer at the West lake.
For more cultural activities visit the Vietnam National Fine Arts Museum, the Imperial Citadel of Thang Long and Vietnam Museum of Ethnology.
Interesting galleries and cultural spaces with events for modern art are Nha San Collective, CUC Gallery and Doc Lab.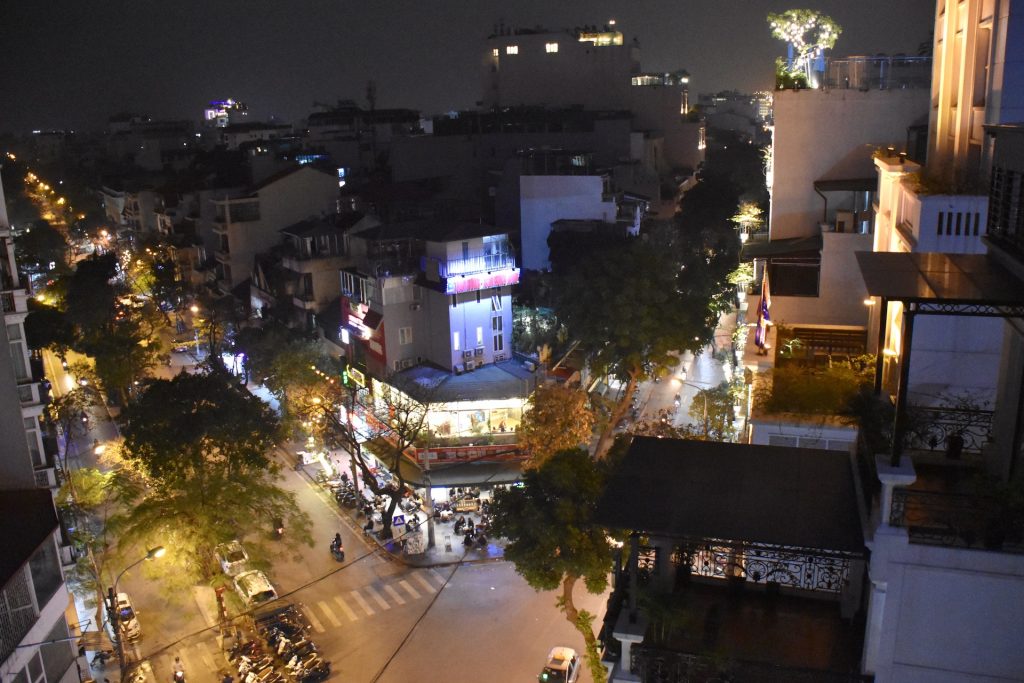 If you are traveling to Vietnam, you might like more useful travel ideas for Phong Nha-Kẻ Bàng national park, Ha Long Bay, Hoi An, Hué and Tam Coc Ninh Binh.