Do
The Rietveld-Schröder-Haus a little bit outside the city center is a beautiful example of the architecture movement De Stijl and can be visited with a booked guided tour. If you are interested in the history of Utrecht, art and fashion visit the Centraal Museum. On a nice day it's nice to climb up the Dom Tower for great views of the region. You can also see the old cloister garden Pandhof van de Dom. Similar to Amsterdam there are many Grachten, or canals, in Utrecht. But here you can sit directly by the water with a drink or some street food or even rent a kayak and paddle through the streets, for example on one of the main, beautiful canals Oudegracht. You can also rent canoes at De Rijnstroom for a nice tour.
Go to Filmcafe for either a good movie, concert or party. Or see what's going on at De Nijverheid, another cultural cafe and atelier space.

Shops
Small boutique The Domestic Botanist sells some very interesting fashion pieces. At Hutspot or Puha shop you find nice fashion brands and design objects. Or go to Cris Herenkleding for mens fashion. De Utrechtse Boekenbar is stylish cafe and bookshop in one.

Cafes and Bars
There are many nice cafes for sweet breakfast, brunch and coffee breaks. For example beautiful Karibu Cafe, Tijm, BROEI or Daen's where you can also shop stylish fashion and plants. There is also minimal cafe Blackbird, 30ml Vredenburg, 't Koffieboontje, Koffie & Ik, Gys cafe and Bakkerswinkel.
You can also try a lot of typical local Beerpubs, like Kafé Belgie, Belgisch Biercafé Olivier Utrecht or Cafe de Zaak in the city center. There is also very nice Brewpub De Kromme Haring and funky De Ping Pong Club or Klein Berlijn. Rumclub is one of the many bars down at the canal Oudegracht. Directly at the water you find Roost, which is an especially nice location on warmer days.
Restaurants
Typical for a dutch city, Utrecht has a number of restaurants located in interesting places, for example lovely Bunk, in a former church. Then there is Het Ketelhuis for a fine dining dinner in a former fabric or Zagerij restaurant also with an excellent menu. At restaurant Watertoren you get an exquisit menu and stunning views of the city. Le Jardin also creates delicious dishes in a beautiful atmosphere. There are also nice wine bars, like chic and cozy Zies or Wijncafe Lefebvre, or Kantien for drinks and small bites. Try The Streetfood Club with dishes from all around the world and great interior. Le:en is also a great designed, lively restaurant with asian food. Or try Don Dining KOUNOSUKE for an interesting Japanese kitchen.
Hotels
Hotel Mother Goose and Eye Hotel are two nice, modern options. You can also stay at Carlton President Hotel which is located about 15 minutes from the center and located close to the nice lake Haarrijnseplas.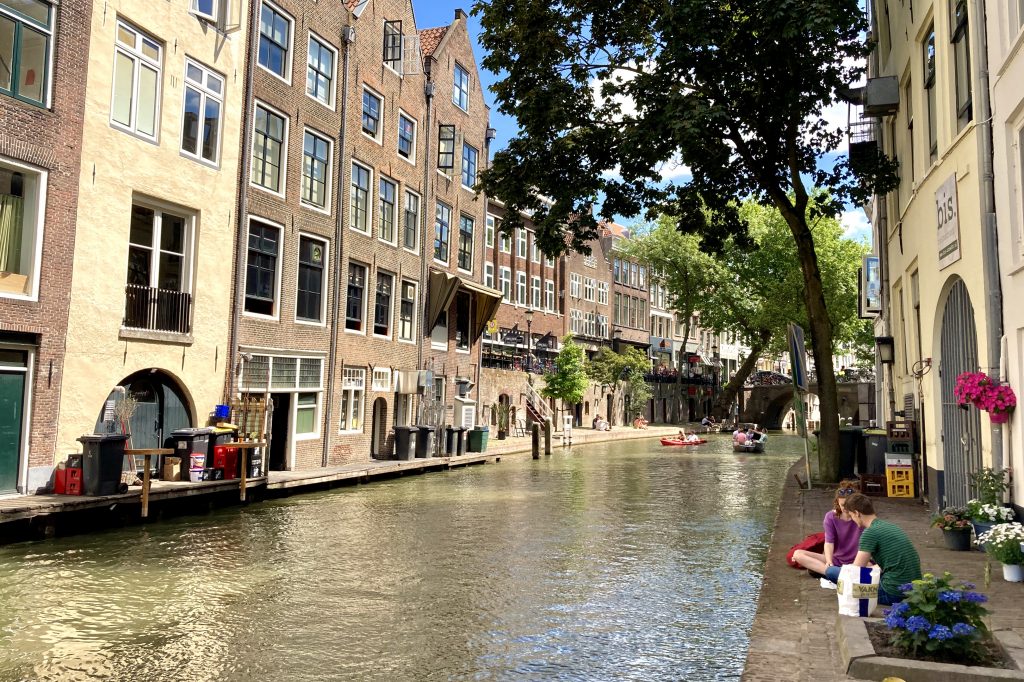 There are many more fantastic places in the Netherlands and Belgium! See the travel guides for Amsterdam, Rotterdam, Maastricht, Flanders, Ghent and Antwerp.