Famous for its financial district with skyscrapers of banks and several large companies Frankfurt is seen as Germany's international business city. However, when walking through Frankfurt you wouldn't expect it being so global or business oriented, as apart from the bank district it actually feels like a cozy, traditional and cultural town.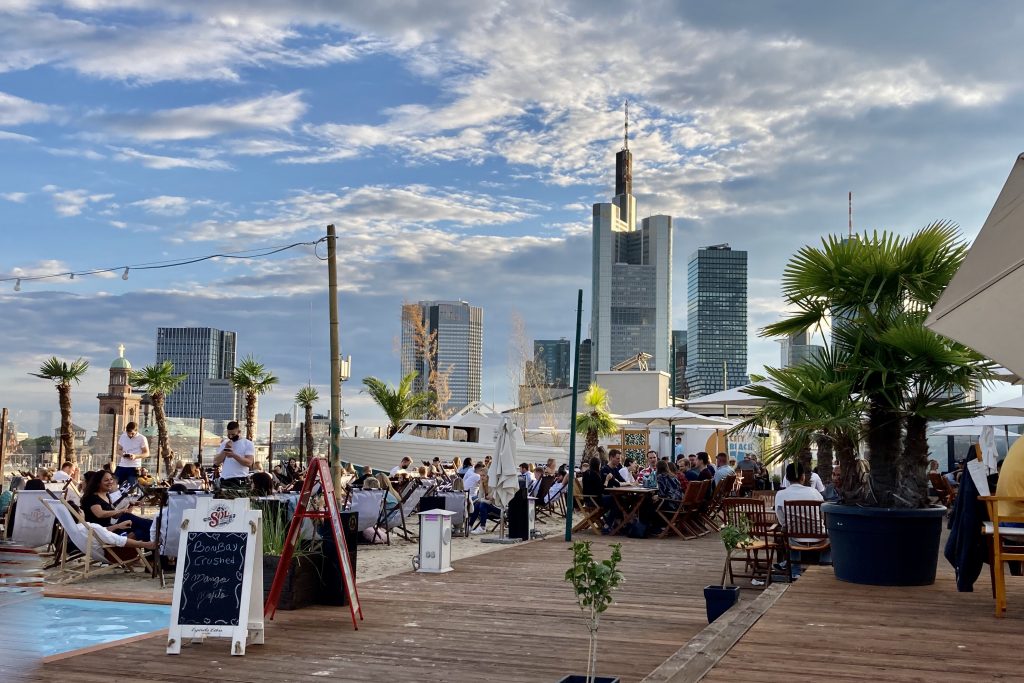 Do: Come to Frankfurt for the museums. There are about sixty museums in total, but especially the art spaces are exceptional. The Städel and the Schirn are fantastic, both worth visiting for their unique architecture and exhibitions. Also the MMK, the museum for modern art, as well as the museum for applied arts are great cultural spaces with interesting exhibitions. Another interesting place is the Goethe House, the birthplace of one of Germany's most famous and beloved poets Johann Wolfgang Goethe. On a sunny day visit the Main Tower and it's observation deck for striking views of the city and the idyllic surroundings of Frankfurt. For a more traditional, local site go to the Kleinmarkthalle, an indoor market hall with fresh vegetables, herbes, exotic culinary produce as well as regional specialties. Another famous landmark is the Römerberg in the old part of town with its traditional buildings, facades and the Frankfurter Dom. It is especially lovely around Christmas when the most part of the old town is transformed into a Christmas market. From here it is not far to the river Main, where you can walk along the water, cross the famous footbridge Eisener Steg and enjoy great views of the city's skyline.
Shop: Frankfurt locals are pretty chic and fancy but laidback at the same time, just like the city's shops. Nice areas with local boutiques and cafes are Nordend and Bockenheim, just stroll along Große Bockenheimer street, for example. Cool fashion stores are Maria on Brückenstraße, hipster heaven Listener, sweet concept store 2nd Home on Vogelsbergstraße and glore for stylish sustainable fashion. In the city center you also find a lovely vintage store called Aschenputtel. Another nice neighborhood with a friendly, local charm is Sachsenhausen around Schweizer street, where you also find many small shops, delis and cafes.
Eat: Regardless if you're planning on visiting the Schirn museum, the in-house cafe and restaurant Badias is great for brunch. Or go to Chinaski Tagesbar for a fresh and instagram-worthy breakfast or lunch. But there are many more sweet cafes and breakfast spots in the city, for example lovely Sugar Mama, Cafe Karin and Picknick at the Goethe house, bakery mehlwassersalz, Glauburg Cafe, Vevay, Sunny Side Up close to the beautiful old opera house, cafe Soulmate, Strandcafe and La Maison du Pain. Another unique cafe is the Japanese patisserie Iimori.
Very good, modern and creative restaurants are Emma Metzler, Walon & Rosetti, Margarete and also Leuchtendroter. If you like latin dishes and seafood try the ceviche at La Cevi or BonVivant for good fish and meat dishes.
For a very traditional Frankfurt dinner book a table at Unser. It is a quintessential Äppelwoi pub, where you get huge Schnitzel and the local cider-like wine. Also try the delicious fresh apple pancakes and a Mispelchen, a local drink made with Calvados. The place is always crowded and a bit touristy, also because of the terrific singing host and owner who puts on a very special show every night. In Sachsenhausen you also find the traditional, old restaurants Atschel and Zum Gemalten Haus. Another traditional-looking, but more innovative restaurant is Landwehrstübchen. If you're craving a sweet treat try the ice-cream at Eis Christina or Antipodean. This stylish gelato shop is located close to Berger street and lovely Luisenpaltz, where you also find lots of nice restaurants and shops, for example the sushi place Berger Streetfood.
A bit outside of the city centre you can enjoy a cold drink at Lohrberg Schänke or MainÄppelHaus where you are in the middle of nature but still have great views of the city skyline.
Drink: Frankfurt has a number of various, nice bars and good nightlife. There is fancy and freaky Hunky Dory bar, Bonechina, stylish Maxie Eisen, sweet Hausbar located in a park, or Gudes, which is an old kiosk. There is also cafe Plank for everything from coffee to cocktails. A lovely, romantic wine bar is Bockenheimer Weinkontor, where you can sit in a hidden, green backyard. There are also great locations at the water, for example Oosten, overlooking the river Main or the hidden hotspot Blaues Wasser with a great beach club atmosphere. Right at the riverfront you also find the Main Cocktailbar, which may only be a modest drink stall, but is a great spot for a cocktail on a sunny day. In summer there is also the great city beach located on a parking deck in town. Here you have sand, palms, actual pools and fantastic views of the skyscrapers, especially after dark.
Stay: The hotels 25hrs and The Niu Charly may be located in the still a bit shabby and shady neighborhood around the central station, but they are very cool and centrally located. If you prefer to stay in a more posh, modern area, try hotel moxy in the city's Ostend.
Getting around: Frankfurt has a big trainstation and an even bigger international airport so it's convenient to get here. Once in the city you can either get a day ticket for public transport, use one of the big bike or scooter sharing apps or just walk around, as the city center can easily be explored by foot.
Here you can find many more great city guides for the most interesting cities in Europe like Paris, Amsterdam, Maastricht or Venice.