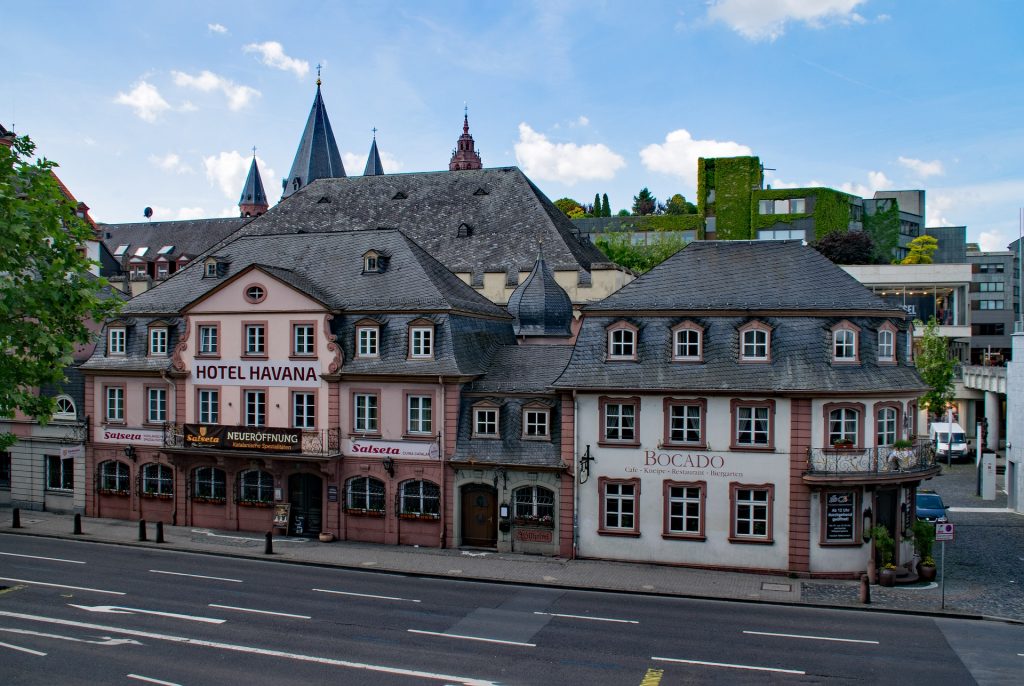 Mainz might be a small city but you can plan a nice day trip, visit the huge cathedral, lots of roman history, taste the best wines and sit in sweet cafes.
Do
The famous Mainz Cathedral is right in the heart of the old town, it's an impressing, big romanesque church.
Up the hill there is St. Stephan Church, famous for its beautiful blue windows created by Marc Chagall.
Johannes Gutenberg not only invented the modern printing press, he was also born in Mainz, so that you can learn everything about him in the Gutenberg Museum.
Right in the unassuming shopping mall Römerpassage you can see a real roman treasure, the remains of an ancient roman temple for free. Or go to Schillerplatz to see the Fastnachtsbrunnen, which shows all the many figures and stories around Fastnacht, or Karneval which is heavily celebrated in Mainz every year. If you are interested in art, museum Kunsthalle Mainz and KUZ Kulturzentrum are interesting places for modern art and also for events or concerts.
Eat
There are many nice wine bars and traditional beer-gardens or restaurants in Mainz. A favorite is Heiliggeist, located in a former church or Spital. The historic building was left almost unchanged, so that the dining room feels traditional, puristic and chic at the same time, while they also have an atmospheric beer-garden. You can eat traditional German cuisine like Schnitzel and Knödel but with a Mediterranean touch.
If you want to try good and typical wines but also have a delicious bite, try Laurenz Weinbar, Lehmanns Weinbistro or Roter Kopf. A stylish tapas restaurant and bar is 3SEIN.
Usually there is a big and lively weekend market right around Mainz Cathedral, where you can taste local wines and traditional delicacies.
You also get good asian food and Sushi in Mainz, for example at small and cute restaurant Niko Niko Tai, An o ban or popular Ha Noi. For delicious ice cream with unique flavors go to N'Eis.
More retaurnts to try are Gasthaus Willems and Willems im Altstadtcafe, Bergschön, Goldener Hirsch or traditional 'Brauhaus' Am Holztor.

There are lots of sweet cafes in Mainz, for example Dicke Lilli – Gutes Kind, with a nice kitschy retro atmosphere and delicious cakes. Or cafes Momo and Marlene directly next to it.
Other nice addresses are popular Annabatterie, Cafe Blumen which is open until late, stylish das Nest, classic Krokodil, Neustadt Apotheke located in a former traditional pharmacy, vegan cafe Möhren Milieu, Hygge or George.

Drink
Mainz and the Rhine region is famous for its wines, so you can get a glas everywhere from the weekend market to cafes and traditional pubs. Order a Riesling, Federweißer or simply a Meenzer Schoppe, half a liter of white wine spritzer. Right at the Cathedral you find stylish Wilma Wunder where you get everything from coffee to cocktails. Schick & Schön or former Coupe 70 is a retro bar with good music and djs where you can drink and dance. Another bar is Thekenkind.